Flanno Road (Jack Daniels)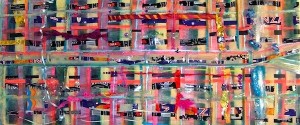 Found Materials, Paint, Pastel on Canvas
920mm x 380mm
$1800
Please click here to enquire about this artwork.
Gail Carson is artist in residence with Waverley Council. Her solo show logs impressions while travelling from Western Sydney to the coast which she calls Flanno Road. Flannos are iconic shirts shared by surf culture and um, the Other culture out west.
Starting at the Nepean River, the M4 is half of that two-hour road trip with its Lighthorse Interchange, roadside memorials, scenic stretches, congested urban architecture [Parramatta Road, Oxford Street] and the community of Bondi.
Take a trip—visit and explore the surprisingly beautiful, woven interfaces of paint and packaging applied to the mindscape and landscape that is Flanno Road.
Posted by charles on June 7, 2012